Creative Kids' Room Ideas that Will Make You Want to be a Kid Again
Having a child is a blessing nobody but parents can understand, and being in the position to witness your child's life is rather special. A child also makes you feel different, besides being protective, loving and caring, you too can be a child once again. Playing with them and goofing around all day is the closest to childhood an adult can get and it makes you appreciate life even more. One of the situations that rejuvenates you and brings back childhood memories is decorating a child's room. If you want to explore the opportunities and be your kid's best friend instead of just a parent, here are a few creative ideas.
Who's Your Decorator?
The thing most parents forget is that a child's room belongs to the child and not them, so it's obvious that the children should be in charge of decorating. This way, they'll feel included and ultimately enjoy the space much more. If you ask for their opinion, you'll get a ton of new ideas and, even though some might be unrealistic or expensive, others could work quite well and prove to be better than yours.
By including the children in the decorating process, you also create a sense of responsibility towards the space. Being surrounded by items they love and cherish will teach them to care and that's just one of the ways to make them want to clean up after themselves. Ultimately, this will make them grow into responsible adults, which is something every parent wants.
A Theme Room
What are the things your child loves the most? Cartoons, movies, comic books and video games? If this is the case, you might want to start considering how to incorporate their fandom into their room.
While most parents just scatter a few toys around, others go all in and redecorate the entire room to match a certain theme. That's how some kids grow up in Cars-inspired beds, hidden rooms that resemble Narnia or castles that look like Hogwarts. Of course, if you can't purchase an actual movie prop or fit an entire magical land into one small room, you can always stick to bedding, wallpapers and posters featuring Marvel and DC superheroes.
Personalize, Personalize, Personalize!
There are tons of creative ideas for children's rooms online and you'll probably do a decent job copying them. However, personalizing these ideas and fitting them into your child's own frame of reference is even better. This way, they'll love their room, because it's unique and reserved only for them.
For instance, most girls enjoy dressing up like princesses, but simply purchasing a pink castle seen in every home decoration TV show isn't good enough. A great alternative to this idea is a humble yet highly effective kids canopy tent that will make your daughter feel exceptional. None of her friends will have such a tent and she'll be the most special little princess in the world – and isn't that how we all want our children to feel?
Be Creative
Another way to inspire your child's creativity is by encouraging their own DIY projects. Playing with clay or plasticine is great for developing their motor skills at a young age, but it also creates future décor. Your child can make picture frames or figurines on their own and then showcase them proudly throughout their entire childhood. Alternatively, you can help them decorate a craft frame that will make their cute photos even cuter.
Other things that spark creativity include wallpapers your child can draw using chalk, closets they can decorate and organize on their own and the aforementioned picture frames you can later turn into a mirror. If you want your child's room to be unique and utterly enjoyable, let them express their creative ideas freely.
The Overall Effect
Lots of parents make the mistake that a childs room should be decorated in accordance with the rest of the home. This couldn't be further from the truth. A room your kids spend their childhood in must suit only them, and that's the one way to make them appreciate this space. With a proper attitude, an open mind and willingness to take your youngster's input, you can create magic together.
About The Author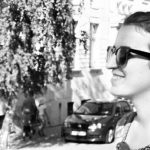 Emma B Joyce. An Australian based blogger, is a true home decor and DIY fanatic. Hooked on home accessories and decorations during her travels and now cannot stop searching for new inspiration.